The Bachelor was 5 hours this week. 5 freaking hours?!?!?! A little unnecessary? Maybe. But did I still enjoy every minute of it?

Well, to be honest, I fast forwarded thru Chris Harrison's interview with Kelsey and #SoulesMates and went straight to the interview with Andi.

As all of you know, Andi and Josh broke up 2 days after The Bachelor "Red Carpet" event back in January. The rumor is that Josh cheated on Andi. Let's leave it to Chris Harrison to get to the bottom of this.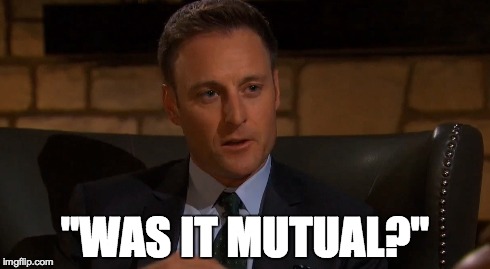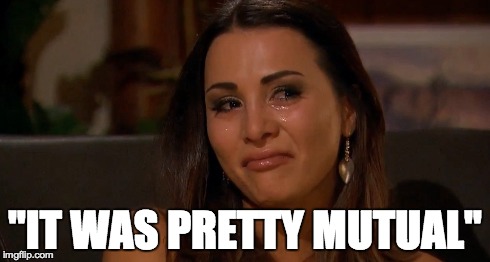 I don't think this is how someone reacts when it is a "mutual" breakup. She is clearly distraught.

Hey Josh…

______
On Sunday, Megan decided to talk to Chris about their connection. They had a mutual agreement (unlike Andi and Josh) that their connection wasn't as strong as some of the other ladies. Megan went home…

With Megan gone, all of my draft picks have been eliminated.

After Megan left the scene of the crime, Chris called off the rose ceremony.

And informed the gals that they are heading to IOWA!!!

At that moment Carly realized she is not going home…

ABC put the ladies up in a hotel in Des Moines, 2 1/2 hours away from Chris's home town…

Welcome to Iowa ladies! Can we talk about Britt's outfit?

The first date card arrives. Jade gets the first one-on-one date.

AND she is going to Arlington!

Arlington must have really missed Chris. They went all out for his homecoming.

Jade finally arrives after her 3 hour drive! Gorgeous!

Chris takes Jade downtown to show her around.

While Jade is living it up in Arlington, the second date card arrives and it has Whitney's name on it.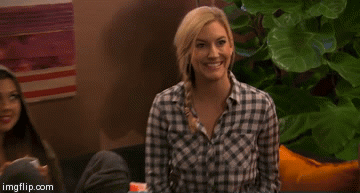 Sorry Whitney, Jade is the only one that will meet the parents….

But that is about the only thing Jade got to do in Arlington. Well I guess she did get to go to a high school football game.

Moving on… Chris and Whitney's date kicked off with a cheesy photo shoot (Chris really loves himself some photo shoots).

Instead of sitting around the hotel, the ladies decide to go on a secret mission to Arlington.

This was the only human in sight.

The human told them the nearest restaurant was an hour away. WRONG. Pizza Slut is only 21 miles away in Oelwein, IA. Dreams do come true.

Nothing much happened on Whitney's date. She got to meet his friends and then Chris had a surprise for her.

The group date card arrives. The ladies are shocked when Kaitlyn doesn't get the one-on-one.

On the group date, Chris takes the ladies ice skating.

Carly tells Chris that Britt is fake.  She also told him what Britt really thought of Arlington.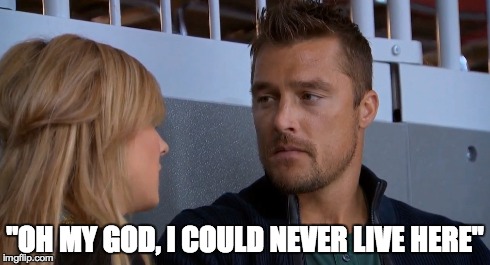 But then Britt came home and told Jade the exact opposite.

After Chris and the ladies freshen up, they head to West End Architectural Salvage

Kaitlyn is panicking and frustrated over the process so Chris gives her the rose.

And then Britt lost her shit and made everyone feel uncomfortable.

The Bachelor Fantasy League Scorecard – Episode 7