This week on Survivor, Reed and Alec are pissed at Keith for blowing their plan at tribal.

Jon and Jaclyn get into a fight about who told Jon to play his idol first and who should get credit for it, Jaclyn or Natalie. Lovers Squirrels.

The reward challenge is all about how well the tribe knows each other. The winner gets to go horseback riding to a beautiful resort where they will enjoy some BBQ beef, BBQ chicken, brownies and a good night sleep.

They last one standing with his or her skull still in tact wins.

After Keith, Reed and Alec got their skull crushed, the "fab" 5 alliance started to chat about how the rest of the reward challenge should play out. Jeff isn't pleased.

The "fab" 5 decide that Missy will win.

Missy decides to send Jon to exile and to take Baylor and Natalie with her on the reward.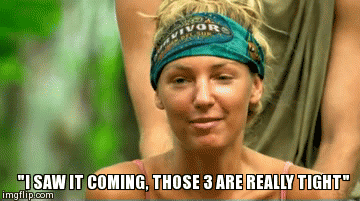 And before they headed off to paradise, Reed had something to say to Baylor.

At Exile, Jon found the hidden immunity idol.

Meanwhile, Missy, Baylor and Natalie traveled to the resort via horse,

drank mimosas and ate some beef and brownies.

And back at camp, Alec flirted with Jaclyn.

Alec's thoughts on flirting….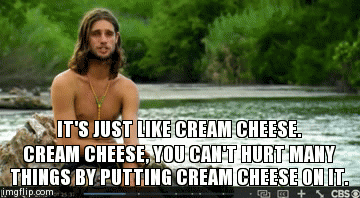 Keith won the immunity challenge! Keith's strategic game is nonexistent but if he can keep winning immunity challenges he may have a shot at making it to the final 3.

When Jon got back from exile, Jaclyn wanted to debrief him on the haps at camp but Jon just wanted to be hugged.

At tribal, Jaclyn and Jon were the swing vote once again. It's between Missy and Reed…. The 10th person voted out and 4th member of the jury is….

Later Reed.

On Day 30, Jeff welcomes the tribe to the reward challenge and lets them know that the winner will receive a spaghetti dinner in bed??? I don't know about you but I wouldn't want to eat spaghetti in bed. Sounds weird. Apparently Missy and Baylor think it is a great idea.

Missy and Baylor, sorry about your bad luck but Natalie won and decided she would rather share her bed with Jon and Jaclyn.

Jon, the sommelier wannabe, brags to Natalie about his knowledge of wine as he aggressively swirls

and swishes.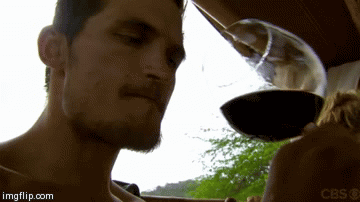 After her night in bed with the couple, Natalie talks to Baylor about blindsiding Jon.

But unfortunately for the ladies, Jon wins immunity.

On to plan B, Natalie plans to rig the vote so that Keith stays over Alec. But she doesn't want to piss off her alliance.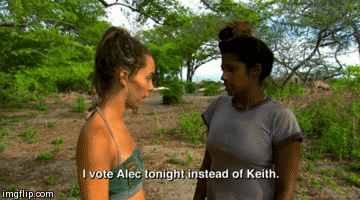 At tribal council…. A rat stops by to say hi.

And Natalie sticks with her plan and votes to take out Alec! Nice move Natalie!!!! Alec was worthless.

Her alliance is blindsided.

And Jon is not pleased.

Later Alec! Hate to say it but you won't be missed.

Don't forget to check out Reed and Alec at PONDEROSA!

Check out the standings here –
Survivor Fantasy League Scorecard Episodes 11