Fans of the game, the holidays plus the 3 hour long season premiere of The Bachelor really postponed my blogging.

The season finale kicked off with a girl fight between Natalie and Jaclyn. Jaclyn was so blindsided by John being outed at tribal she went back to camp guns a blazin'

until reality set in that her wine connoisseur lover would not be sleeping next to her on the ground tonight.

At the reward challenge, Keith won an advantage in the next immunity challenge.

And he sent Jaclyn to Exile.

When they got back to camp, Keith ventured off to find out what the advantage was.

They brought the next immunity challenge to Keith!!! He had all day to practice and perfect the challenge and get ready!!.

At the immunity challenge Keith blew it up! Nobody even came close.

Going into tribal, Natalie wanted to make a big move but she had a final 3 deal with Missy and Baylor. Unfortunately for Missy and Baylor, Natalie "surprise" played her idol for Jaclyn and sent Baylor packing.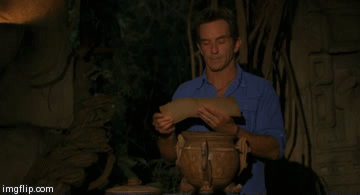 Props to Natalie for pulling it off.

At the final immunity challenge, Keith, Jaclyn, Natalie and Missy (oh wait, Missy is still one leg down) duke it out to see who will make it to the final 3.

Natalie and Keith had a huge advantage over Jaclyn going into the puzzle.

But they couldn't seem to pull it together and Jaclyn pulled ahead even though she could barely hold her head up.

And Jaclyn WON!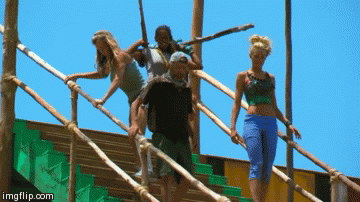 Back at camp, Jaclyn and Missy discuss who to vote out, Keith or Natalie.

At tribal council,

Jaclyn decided to vote out…

I was sad to see Keith go. I would have liked to have seen him win some money over Missy.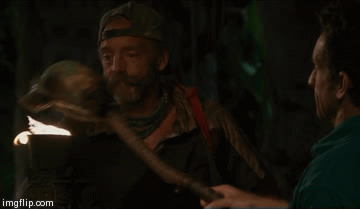 On day 39, the ladies wake up to the final feast.

At final tribal, the jury took it easy on the ladies.

And named Natalie the SOLE SURVIVOR!!!!

Making Hooper the Sole Survivor of our fantasy league!!!

She won by a landslide. Check out the standings here – Survivor Fantasy League
I will leave you with an overview of some of our furry friends from this season.
Mantled Howler Monkey

Hoffmann's Two-Toed Sloth

White-faced Capuchin

Mexican Porcupine

Last but not least, my favorite little guys from this season, the Common Opossum!!!!!

If you want to see more of the animals of the island, click here.
Thanks for reading!  Until next season, stay warm!