Before we get started on the recap, I have to fill you in on a few things I found out last night while listening to Rob Cesternino's podcasts from this past week.
1.) Tyson and Rachel are going to be on Marriage Bootcamp 2 along side Speidi and 3 other couples that I have never heard of before. The show is scheduled to air on WE tv in 2015. Yes, the WE channel. Tyson has hit a new low….

2.) Jon and Jaclyn recently got engaged! Click on the photo to see their full engagement shoot.

3.) Last but not least, on Alec's interview with Rob, he revealed that his bro Drew was dating Kat Edorsson. But wait, Drew didn't make it to the merge. How can she date him???? If you are interested to see who Kat is rubbing elbows within the reality tv world, check out her instagram page.

If you are interested in checking out Rob's podcasts CLICK HERE).
Ok, now to the recap. This week on Survivor, Natalie had to do damage control when they got back to camp. She had to convince her alliance that she got the plan mixed up and accidentally voted to take out Alec instead of Keith.

Nice play Natalie, I think they bought it and in the meantime Jon was attacked by a monkey.

At the reward challenge the tribe was broken up into two teams. Baylor, Natalie & Jaclyn vs. Keith, Missy and Jon. They are playing for a spa day! Showers, massages, steak & brownies!!!

During the challenge Missy twisted her ankle.

Which gave the ladies a big lead. Apparently the lead wasn't big enough. They blew the puzzle and Jon, Missy and Keith wins reward!!!

Jon gave up his reward to Baylor and missed out on this.

and this.

and this.

Missy's ankle injury is no joke.

Missy hobbled into the immunity challenge. Jeff called medical in.

Medical dude Ben thinks her foot is fractured but Missy says screw it she is here to win…

Unfortunately for Missy, she can't compete in the immunity challenge.

Natalie and Jon are the last ones standing. AND just like that, the wind blows Jon's torpedo looking pot over and Natalie WINS!!!! Woohooo!!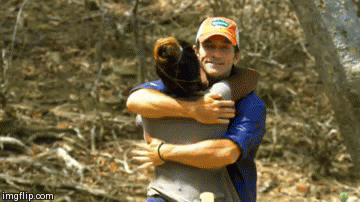 Back at camp, Natalie puts her plan into action. She approaches Missy about getting rid of Jon. But it doesn't go so well.

At tribal Alec seems super interested…

The votes are split – 2 Keith, 2 Jaclyn and 2 Jon! Missy did it!!!!

The 11th person voted out and the 6th member of the jury is….

And the crowd goes wild!!!!!!!

Check out the standings – Survivor Fantasy League Scorecard Episode 12
This Wednesday is the season finale!!!!! Can't wait!!!!!